As we approach the MLB All Star on July 10 its time to reflect back on the first half of the season and the plays and players that stood out above the rest. While the players on this list as of right now are my favorites to win there respected award nothing is set in stone, with the dog days of summer and alot of baseball to still be played new contenders still have time to make there voices heard. With that being said this list will include my Mid Season MVP, Cy Young, Rookie Of The Year, and Comeback player of the year for both leagues. As well as my favorite moment from the first half of the season, lets start off with ROY(Rookies of the year) for the AL and NL.
The AL ROY should come as no surprise for anyone who has been following baseball this year for more then 5 minutes. Mike Trout CF for the Angels. Trout along with Bryce Harper of the Nats was one of the must see rookies this year in major league baseball with high expectations coming in. Trout has not disappointed, Leading the American league with a .343 batting average, 10 home runs, and 23 stolen bases. He's also played a stellar Center Field, a major question mark going in since they were moving Gold Glove winner Torri Hunter to RF, posting one of the best highlight reel catches we've seen this year. Beyond the numbers and the glamerous catches he's helped the angels battle back from last place in the AL West in april to 2nd place at the all star break. This team goes as far as there young stuperstar in the making can take them, not there prized free agent signing.
Unlike the AL the NL's crop of rookies doesnt have such a stand out winner. There are leaders for the award but no one has grabbed it and made it theres yet. With that being said its Bryce Harper, the 19 year old phenom we've been talking about since he hit a ball in high school about 570 feet. After only a year in the minors Harper made the Nats roster this year and quickly became one of the games most popular players. Sporting a .280 average and 8 home runs he's made an impact in alot of games with his young energetic hustle and passion for the game, such as stealing home on Cole Hamels after he pegged him intentionally. Although he might be more famous right now for "Clown question bro" theres no questioning his potential and what he could do. It all starts with bringing home his first hardware, ROY.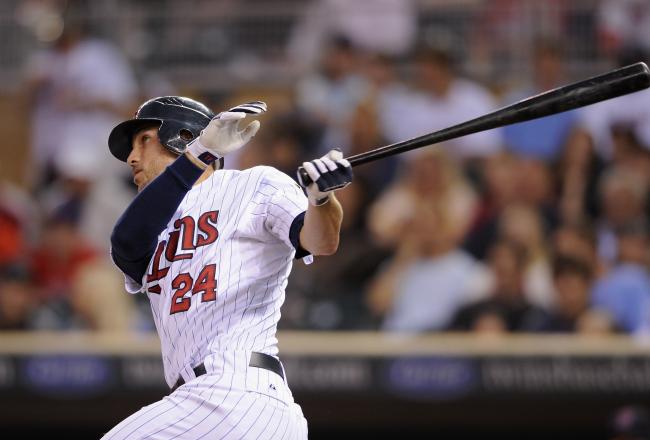 For comeback player of the year in the AL I went a little of the map with a name people arent very familiar with, Trevor Plouffe for the Twins. Adam Dunn has been a popular choice by many people and I agree its nice too see him hitting home runs again, but batting .213 and on pace to strikeout 270 in a season isnt really something I'd want to come back to. Plouffe is in the top 10 in the AL in home runs, is batting .250 and has a third of the strikeouts as Dunn, and he's playing 3rd base which demands alot more out of you than 1st or DH. In less at bats this year he has already surpast his home run total and rbi total from last year, and at the age of 26 maybe he can be teamed with a healthy Joe Mauer and Justin Morneau to help the twins make it back to the playoffs.
With multiple options for comeback player of the year in the NL, McCutchen, Beltran, both of whom are having turn around season but they did not truly have down season last year. This award right now should go to Carlos Ruiz catcher for the phillies, yes a phillie that is hitting. Ruiz is 2nd in the NL in batting with a .357 average and only .003 behind the leader. He has already set a career high in home runs with 13(previous high of 9) and is only 8 rbi's away from breaking his old career high. This season he has been one of if not the best hitting catcher in all of baseball, no one would have ever thought that at the beginning of the year. This is enough in my book to give him the award.
Lets move on to the biggest award for pitchers, the Cy Young. While the NL has a clear cut winner(read on to see) the AL has the same old canidates, CC, Weaver, Price. But my winner is a fresh face on the scene, Chris Sale of the WhiteSox's. Chris has become one of the most dominating lefties in the game, early on this year he was going to be the future closer for the WhiteSox's, but after early injuries he was pushed in to the starting rotation. Since than he has posted a 10-2 record and the lowest era in the AL at 2.18, over a half run better than Price and 1.3 better than CC. After losing Mark Buehrle to free agency Sale was exactly what this team needed, a dominating lefty, its like Buehrle never left. Because of his strong performance this season the WhiteSox are in 1st place in the central, a place no one expect before the season started.
Is this even a debate? NL Cy Young winner? Its the crafty knuckle baller for the mets RA Dickey. Has there been a bigger storyline this year than what Dickey has done this year, coming from an end of the rotation starter to leading major league baseball in wins and having a 2.40 era. Batters seem to be baffled by Dickey's knuckleball, unlike Wakefield and Niekro whos knuckle would go about 60-65 mph Dickey's can hit 80 mph! With all that movement and the chance that it can blow right by you batters dont know what to do, resulting in 2 one hitters this year and him most likely starting for the NL in the All Star game this year.
Now to the big one, the award every player fights to get but only a few reach, MVP. In the AL no player has had as dominating half of baseball as Josh Hamilton. Hamilton who's on pace for 53 home runs and 150 rbi's this year has been able to keep the injury bug that has bothered him his entire career down and only missed a few games this year. Because of this we're seeing him put together some amazing stat lines, like having 6 home runs in a 2 day span back in May,4 home runs against the orioles, and leading his team to 1st place in the AL West. If Josh can keep this up and keep his bat in his hands (in the last 2 weeks he's had about 7 bats fly into the stands) he will win more than just an MVP, he might be able to finally get the Rangers a championship. 3rd times a charm right?
Last year many fans wanted Ryan Braun to give his NL MVP back, after an apparent positive drug test for steroids. After the investigation found that his sample was tainted some fans went back to loving Braun for the player he is, some still werent sure and thought maybe he did do it. After the first half of this season there should be no question Braun is legit, leading the NL in home runs and 2nd in rbi's. Without his batting mate Prince Fielder batting behind him it was also believed that pitchers would let Ryan see as many good pitches, instead making him wait for the one good pitch he might see the whole at bat. Whatever pitchers are doing this year its the same ol Braun, showing power to the entire field and hitting with a great average for a power hitter. With the occasional good play in the outfield Braun has once again won back the fans hearts, for this he will win another MVP. No questions asked.
I just wanted to take a moment and make a shout out to my favorite moment from the first half of the season. From all the highlight reel plays, to the record breaking performances its hard to choose just one moment. Many would say Matt Cain throwing a perfect game would easily be the greatest, but mine was about 51 years in the making. The New York Mets have been around since 1962 and is one of baseball greatest franchises, yet they had never thrown a no hitter in over 8000 games. With 36 one hitters it just seemed like the Mets would never get it done, especially when pitchers like Nolan Ryan, Tom Seaver, David Cone and Dwight Gooden all went on to throw no hitters after they left the Mets. While when they originally signed Johan Santana many fans would have thought he would be the one to break it, when he took the mound June 1st against the defending champoins St.Louis Cardinals a year after missing all of the 2011 season with a shoulder injury no one thought this would be the night. Yet 137 pitches later, and one questionable foul ball call, Johan was one strike away from history. 3-2 count to last season world series MVP David Freese, Santana knew he had to earn this no hitter. He went with his signature circle change, as Freese started to swing the ball took a nose dive just below his bat. That was it Johan had finally done it, the Mets finally had a no hitter to add to there proud history. Adding up all the history behind this story and who it was and who they were playing nothing this year will top the excitement of the 9th inning of that game for me.....Maybe the Tigers winning the world series.....or the Mariners making the playoffs.....but besides that nothing.
sources: